Hot on the heels of our version 5.3 release comes version 5.4, exposing insight into your bank transactions (deposits). Before diving into the newest features you're sure to be exited about, we'll first recap some of the latest improvements for bank transactions.
The groundwork was laid in 5.3 for the full reconciliation of bank deposits from Payshift payments. When a tenant or applicant makes a payment, those funds are allocated to your "Undeposited Funds" suspense account, before being reconciled and represented as a bank transaction, thereby moving those funds to your bank account.
Until now, when a tenant made a payment and those payments cleared, there wasn't an efficient way to view the deposit associated with that payment. While we did have a way for you to get these deposit details, it wasn't fully integrated into the RentPost management app. We heard from many of you, understandably so, that reconciling batch bank deposits was a difficult task.
This latest version provides you with a very integrated experience and insight into each bank transaction, and which payments are associated with these deposits. Let's take a look…
Viewing all Bank Transactions
While there are multiple ways to view bank transactions, as is the standard user experience we strive for at RentPost – providing you the details you need, regardless of where you are within the RentPost application – viewing a report, a tenant ledger on a profile, or received payments, the easiest way to view all your bank transactions is from your "Banking" tab under "Accounting".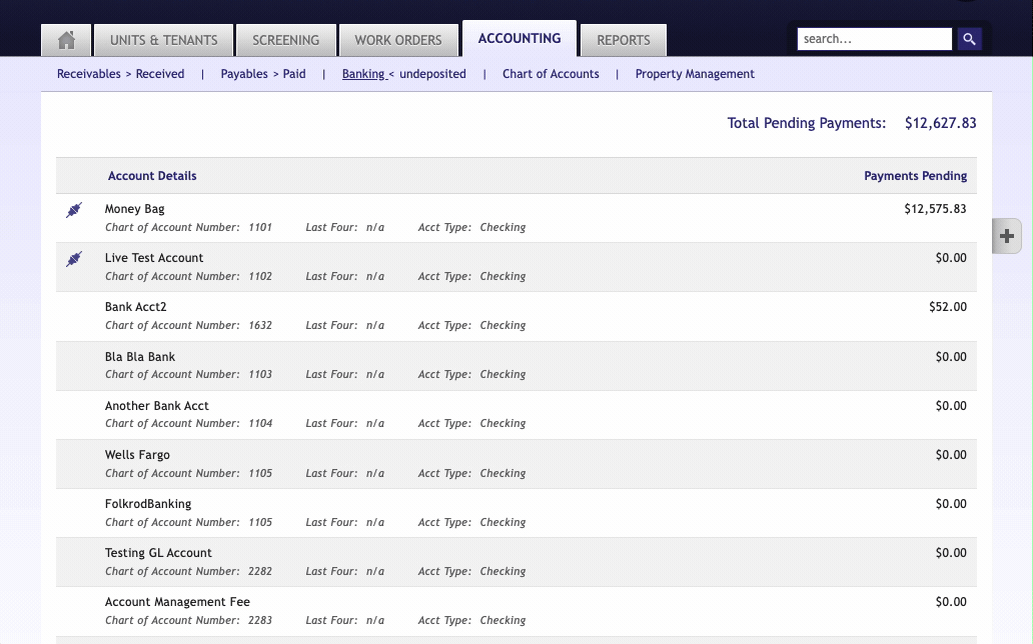 By selecting the bank account, you're now presented with your latest Payshift deposits, in addition to any manually deposited payments using the "Undeposited Funds" feature. Then, by clicking the "View All Bank Transactions", you can see a list of all bank transactions associated with the bank account.
View a Single Bank Transaction
When viewing a single bank transaction, you'll be presented with a total deposit amount and a list of all payments associated. If it was a manual deposit that originated through the "Undeposited Funds" feature, you'll also be able to print a copy of the deposit slip.

Deposit Associated with Payment
In true RentPost fashion, deposit details are made accessible where and when you need them. You can view a deposit from your "Received" tab under "Accounting" with a new action to "View Deposit".
There is even a new payment receipt detail that's accessible anywhere you see a payment ID in the system – like on ledgers, reports and even the deposit, itself!
That's not all though! There is a ledger available on owner profiles too. Now you can see all accounting entries affecting an owner balance without having to run a custom report.
We're excited to offer these new improvements and we look forward to your continued comments and feedback!